Scandinavian cruises are a popular way to discover the very best of Norway and Northern Europe. Here's our guide to what's available and what you should consider before you book.
The lands of ancient settlers, marauding Vikings, glaciers and fjords, historic and modern cities, and the mesmerising northern lights are waiting for you to discover them. Welcome to Northern Europe.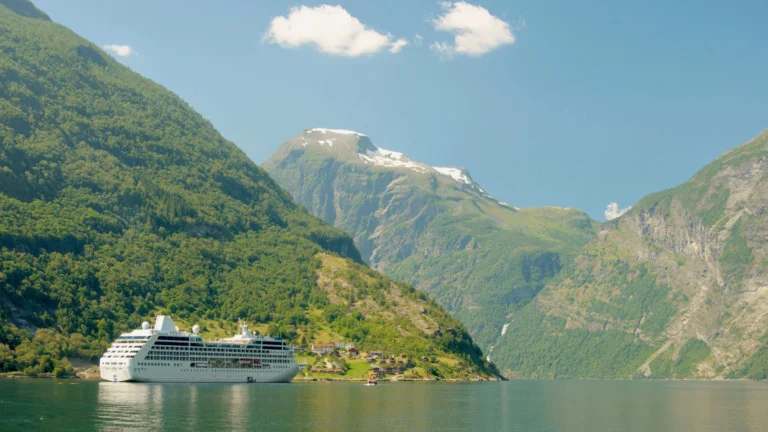 From the cosmopolitan cities of Stockholm, Copenhagen, and Oslo to the craggy coastlines and the ethereal beauty of the Norwegian fjords, a Scandinavian cruise is an adventure that will stay with you forever.
Cruising in Norway and Scandinavia isn't for everyone. There are genuine environmental and sustainability concerns, so it's crucial to weigh the potential environmental impact of your journey alongside the undeniable allure of the experience.
Introducing Scandinavian cruises
A cruise in this region is a symphony of sensory delights: the taste of freshly caught Atlantic salmon in Norway, the sight of the midnight sun dipping towards the horizon but never quite setting, and the sound of Denmark and Sweden's bustling streets.
But it's not only about the destinations; the journey itself is part of the wonder especially on a modern cruise ship. Sailing the Baltic Sea, North Sea, or Arctic Ocean, you'll experience comfort and luxury onboard, coupled with educational enrichment and thrilling offshore excursions.
Many of the ships themselves are floating cities, offering world-class cuisine, spa facilities, and entertainment, with an ever-changing view that–in the Scandinavian region at least–is breathtaking.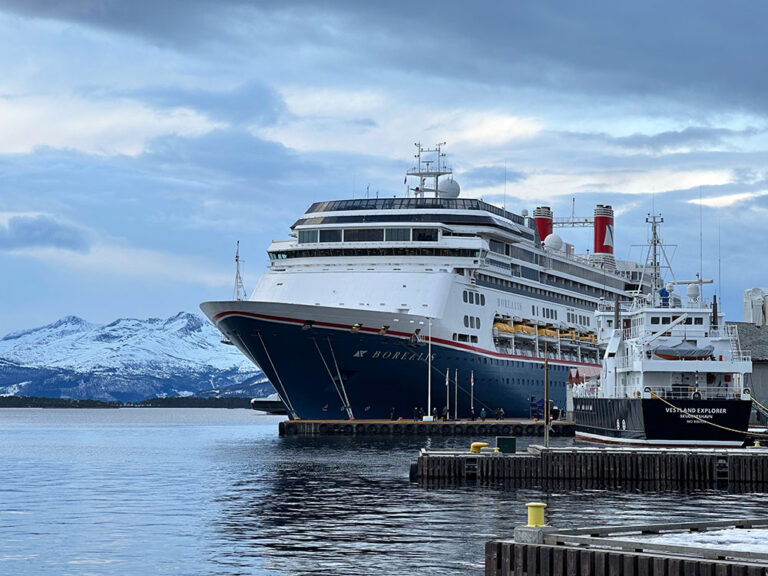 For those who prefer a more intimate experience, smaller cruise ships also operate in the area. In addition, the Norwegian coastal cruise is a must-do experience that bolts on a cruise-like experience to the traditional coastal ferry.
The purpose of this guide is to help you navigate through the myriad options and make the most of your experience. We'll discuss the best times to go, the highlights of each destination, the variety of cruise lines and ships, and insider tips to make your voyage a smooth and memorable one.
Whether you're a seasoned cruiser or a first-time cruiser, this guide is your map to the treasures of Scandinavia. Get ready to set sail on an unforgettable journey!
Best times to cruise Scandinavia
Whether you're looking for the ultimate in luxury or a budget-friendly break, nothing will destroy your cruise experience quicker than booking a trip at the wrong time of the year.
Scandinavian cruises are typically taken during the summer, but that's not the only option. Bargains and unique experiences can be had at other times of the year, as long as you know what to expect.
Summer: The most popular season by far. During June, July and August, you can expect cruise ships in the region to be full. Many ports also be busy and will likely have more than one cruise ship in port.
While the summer brings the highest chances for good weather, the busy nature of ports can put some people off. You may find excursions are fully-booked, for example.
Some people choose summer because they want to experience the midnight sun. While you will get long days all over Scandinavia, remember that you must go north of the Arctic circle to experience the true midnight sun, where the sun stays above the horizon throughout the night.
Late spring: May is a wonderful time to visit Scandinavia. The weather is generally starting to improve, the days are a lot longer (remember summer solstice is mid-June!) and there should be more space on the ships and in ports.
One issue to bear in mind is the number of public holidays in Scandinavia during May, especially in Norway. While experiencing Norway on its national day is a bucket list item for many, you should consider the realities of visiting ports when most typical tourist attractions are closed.
September: There is a very short autumn season in Scandinavian cruising. The handful of weeks between the summer high season and the start of northern lights cruises is a wonderful time to experience Scandinavia in its autumnal coat. The biggest downside of autumn cruising is the higher chance of rainfall.
It's an ideal time to give the Norwegian coastal voyage a try. The changing colours add a new dimension to the fantastic scenery, and fares tend to be lower too.
October-April: The long winter season in Scandinavian cruising is mostly about northern lights cruising to the north of Norway. Not many lines offer this but those that do seem to be popular.
Bear in mind that December and January will be much darker, especially north of the Arctic circle where you'll experience polar night. If you are interested in Arctic scenery just as much as the aurora, consider October-November and February-March for a better balance between light days and dark nights.
Some cruise lines offer Scandinavian Christmas market cruises during late November and December. Sometimes combined with German and/or Baltic cities, these cruises are a curious alternative.
Just make sure the markets and any other attractions will be open on the days your ship is scheduled to be in the ports. As crazy as it sounds, I've heard stories of some cruises advertising a market only for it to be closed on the day the ship docks.
Top Scandinavian cruise destinations
As you've probably figured out by now, there is no such thing as a typical 'Scandinavian cruise'. Many cruises only visit the western Norwegian fjords while others call at the capital cities in the southern part of Scandinavia.
So, if you're considering a trip, it's time to get a better idea of what your preferred type of itinerary would be. In no particular order, here are some of the top Scandinavian cruise destinations.
Top cruise destinations in Norway
Norway is arguably the first country you think of regarding a Scandinavian cruise. Given the length of the Norwegian coastline, that's not a surprise!
But cruises to Norway are rarely the same. There are so many options for cruising Norway, with many of the major cruise ports a long distance from one another. Here is an introduction to some of the top cruise ports in Norway.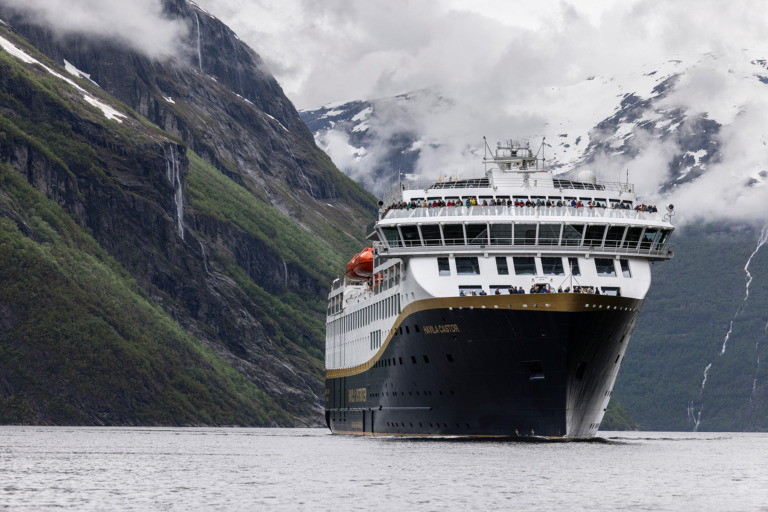 Norwegian fjords: Considered one of the top tourist destinations in the entire world, it's no surprise that the fjord region is also the primary cruise region in Norway. Small ports such as Flåm, Geiranger and Olden welcome large cruise ships every day in the summer season.
If you're planning a fjords-based cruise, it's well worth looking in detail at how long the ships will spend in dock and when the sail-ins and sail-outs will be. Unless you're booking an excursion, the ports aren't really the highlight of these cruises. It's the many hours of sailing in and out of the fjords themselves that are the real highlight.
Some cruise lines focus more on this 'scenic cruising' aspect and spend less time in port or call at fewer ports. I would consider those a better choice if your goal of the trip is to appreciate the wonderful landscape of fjord Norway.
Bear in mind also that cruising in the Norwegian fjords will soon undergo major changes. In just a few years, only zero-emission vessels will be allowed in the part of the fjord region designated a UNESCO World Heritage site.
West coast cities: Fjord cruise itineraries almost always include one of the major west coast cities of Norway. Bergen is the best-known of these, but Stavanger, Haugesund and Ålesund are also common choices.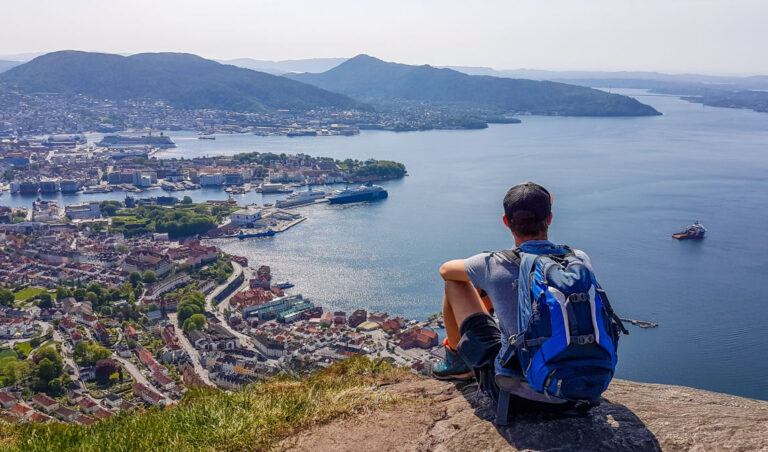 Bergen is also the starting point of the Norwegian coastal voyage. This means on a summer day, the city can play host to three or even four large ships.
Oslo: Cruises on a Scandinavian-focused itinerary will often incorporate Norway's capital city. Many passengers take the opportunity to take a coach tour of Oslo's highlights. Kristiansand on Norway's southern coast is another option that larger lines use on such itineraries.
Arctic Norway: A must to experience the midnight sun or the northern lights, Northern Norway takes a long time to reach but it's well worth it at any time of the year.
From the magnificent Lofoten Islands to the mystical winter light show, exploring this remote region by cruise ship will shape lifelong memories. Check out my review and video of a winter northern lights cruise to Northern Norway to get more of an idea about this experience.
Major ports in the north of Norway include Tromsø and Alta, both especially popular for aurora borealis trips. Narvik is popular among war tourists and for the Ofoten railway, while Honningsvåg is popular for its proximity to the North Cape.
Svalbard
A dream destination for many, Svalbard has become a more popular cruise destination in recent years. However, significant environmental concerns mean only smaller ships are likely to be permitted to sail here in future years.
Some cruises focus on scenic cruising around the western fjords and glaciers, while others spend longer docked in Longyearbyen in order to let guests enjoy activities on land.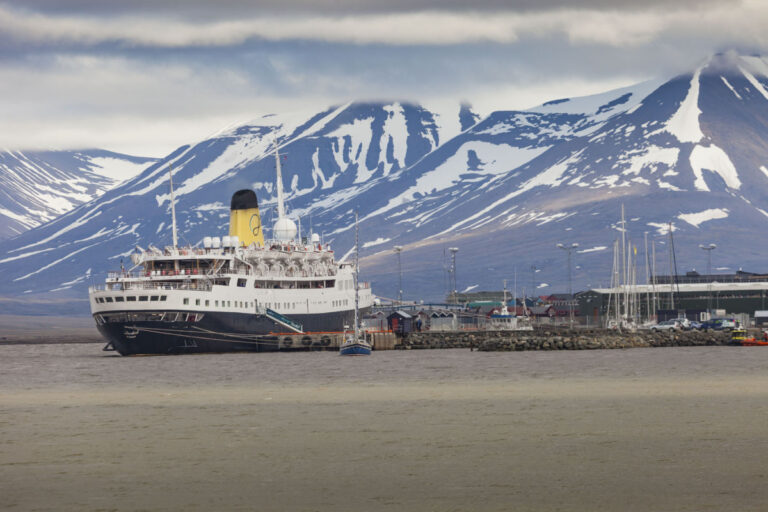 Some Svalbard cruises depart UK or mainland Norway, but others–especially small expedition ships that circumnavigate the archipelago–require a flight to Longyearbyen.
Top cruise destinations in Sweden
Stockholm and Gothenburg: The two biggest cities in Sweden dominate the list of Swedish cruise ports. Both are fantastic examples of historic cities that have moved with the times.
Stockholm is every bit the modern capital. Yet despite being built over many islands, it's a very walkable city. Gamla Stan, the old city centre, is a great place to immerse yourself in a medieval Scandinavian atmosphere while having all the conveniences of modern life close at hand.
Visby: Watch out for Visby on some itineraries. The port on the island of Gotland in the Baltic Sea, Visby is a UNESCO World Heritage Site with a fascinating trading history from the Viking Age and through the Hanseatic League era.
This charming town is still surrounded by the town wall, inside which you'll find churches, lively squares and a medieval ambience.
Top cruise destinations in Denmark
As the capital city, Copenhagen is the most popular Danish cruise destination by a distance. Aalborg, Aarhus and Skagen are other possible ports of call.
Other destinations on a Scandinavian cruise
Scandinavian cruises don't just call on ports within Scandinavia, of course! Many are actually on longer Nordic itineraries, some including the Baltic region and ports on the northern coast of Germany.
So, it's well worth looking out for some of these cruise ports too. They might provide a fascinating addition to your cruise.
Finland: The Finnish capital Helsinki is a vibrant city and a must for all fans of Nordic design. Other key ports in Finland include Turku, Kotka and Mariehamn in the fascinating Åland Islands.
Iceland: A major cruise destination in its own right, Iceland itineraries especially from the UK are very popular throughout the year. But longer itineraries often combine Icelandic ports such as Reykjavik and Akureyri with the Norwegian fjords or other ports in Norway.
As with the Norwegian fjords, ports in Iceland are rarely the star attraction in and of themselves. The scenery from the ship can be fascinating too, but in Iceland you really need to explore the country to get the most out of a trip.
More so than any other country, I recommend booking excursions in Iceland to see some of the natural wonders including volcanic landscapes, geysers, waterfalls and glaciers.
Faroe Islands: Thanks to its position between Norway, Iceland and the UK, the Faroe Islands is a popular cruise ship call to break up a string of sea days. Torshavn is the main city and the port, but it's the coastal landscapes on these remote islands that you'll really want to see.
Whether you book an organised tour or find another way, I highly recommend getting out of Torshavn to experience what the Faroe Islands are really about.
Scottish Islands: Many cruise lines departing the UK try to break up an itinerary so there are not too many consecutive sea days. A stop at one of the many Scottish islands is a popular way to do this.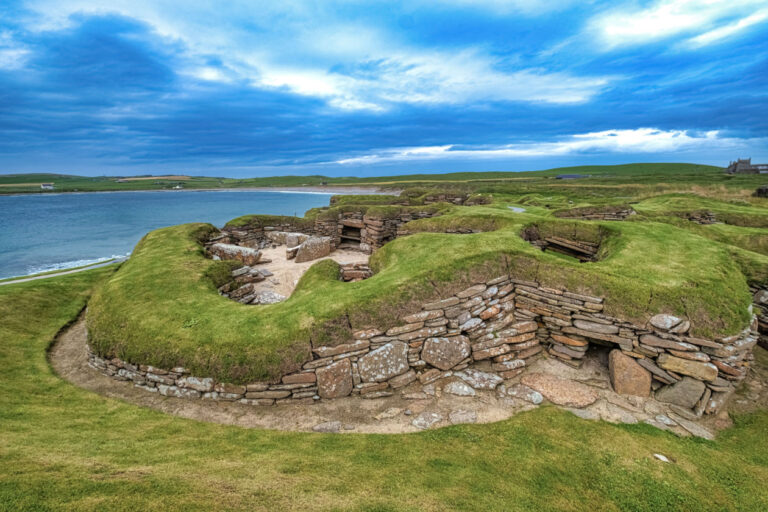 Orkney and Shetland both offer fantastic experiences for travellers, especially those interested in history because of the incredible neolithic archaeological sites. Both archipelagos have strong Norse history, making either one an excellent partner to a Norwegian fjords itinerary.
Baltic Sea: Larger cruise lines often create longer itineraries by venturing into the Baltic Sea. These often feature ports of call like Stockholm and Helsinki, but also the likes of the beautiful Estonian capital city, Tallinn or the Latvian capital, Riga. Ports on the northern coastline of Germany and Poland are sometimes included too.
Up until recently, many of these itineraries would have included Saint Petersburg, but at the time of writing no major cruise line is serving the Russian port city.
Best cruise lines for Scandinavia
If you've got this far, congratulations! Hopefully you'll now have a better idea of what kind of cruise itinerary you'd prefer. Now that you have that, it's time to take a look at the actual cruise lines that serve the region.
While you may think the region is a niche market, almost every major cruise line operates at least some Scandinavian cruises. Whether you want refined luxury, mass-market resort ships, or small ship scenic cruising, you'll find a line for you.
Luxury lines
It's harder to define luxury in the cruise market these days as even the budget lines offer excellent comfort and dining options. But the generally accepted luxury category includes lines such as Regent Seven Seas, Seaborn, and Silversea.
All three lines operate smaller ships and typically offer all-suite accommodation with all-inclusive fares and premium dining. You may find that because the ships are smaller, there are more interesting ports of call beyond the usual suspects.
The big issue with luxury lines is of course the price. It's not for everyone, but if you're the kind of traveller who is prepared to pay for the finer things in life, you'll find a Scandinavian cruise that suits you.
While Viking Ocean doesn't bill itself as a luxury cruise line, it is considered by some to be in the category because of its all-inclusive approach and onboard fine dining.
Scandinavia is an important market for Viking and its itineraries often combine the best of the Nordic region into one trip, making them well worth a look for an introduction to the region as a whole.
The newer ships from Holland America may also fit into this category, as do the ships from Cunard which make occasional Scandinavia itineraries in addition to their famed transatlantic crossing.
Large cruise lines
Some of the world's biggest cruise ships sail in Northern Europe. This includes ships from Royal Caribbean and MSC. But smaller ships that you'd still consider big from global lines like Norwegian Cruise Line or Celebrity are also frequent visitors.
To see what the experience on a large, new ship is like, check out my review and video tour of NCL's Norwegian Prima.
German line AIDA is a frequent visitor to Norway year-round, as are many of the ships from British cruise line P&O Cruises.
Smaller cruise lines
Fred Olsen are one of the cruise lines with smaller ships that run regular itineraries to Scandinavia, especially Norway. Their 1,300-capacity ships are older but still contain a lot of facilities including multiple dining options, a show theatre and many lounges. Ambassador is another small British line that operates some cruises to the region.
If you're curious about the experience on smaller, older ships, check out my review and video tour of the Fred Olsen Bolette:
The small British line Saga Cruises operate several itineraries to the Norwegian fjords and Northern Norway. It's one of the few lines that exclusively operates to a specific age group, in this case 50 years and over.
Expedition cruises
Whereas regular cruises typically offer a leisure-oriented experience with a wide range of onboard amenities and entertainment options, expedition cruises provide an opportunity to explore remote and pristine regions of the world with a focus on education, nature, and adventure.
Most expedition cruises employ smaller ships and/or ice-strengthened vessels designed to navigate through narrow waterways and reach remote areas.
In Scandinavia, many people choose an expedition cruise in order to visit smaller ports in the fjord region, smaller ports in Northern Norway or to sail around Svalbard. The most popular choices for Norway is Hurtigruten Expeditions, but there are other options including National Geographic Expeditions.
Norwegian coastal voyage
Last but definitely not least, don't forget about the Norwegian coastal voyage. If your goal on a Scandinavian cruise to enjoy the wonderful scenery of Norway, then this could be exactly what you're looking for.
There are daily departures on the Bergen-Kirkenes-Bergen route operated by Hurtigruten and Havila, depending on the day.
In addition to the vessels' role as a passenger and cargo ferry serving 34 ports along the coast, they offer a cruise-like roundtrip experience to a predominantly international crowd.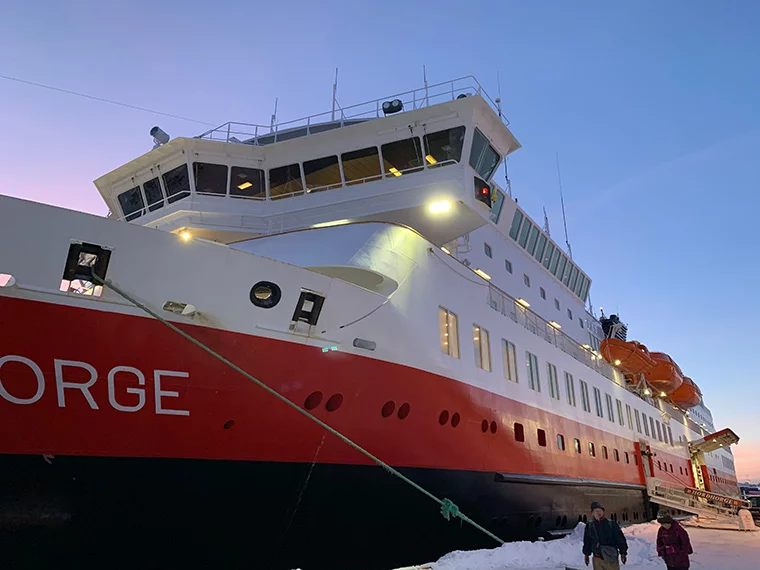 There are many differences from a regular cruise. The most notable are the much higher frequency and shorter duration of port calls. Because of those frequent stops, the ships sail much closer to the coastline than regular cruise ships.
The ships are smaller than the 'small' cruise ships listed above, with typically no more than about 600 passengers onboard. There's also very little entertainment beyond the landscape. This makes it much easier to relax or meet like-minded people, should you wish to.
Excursions and onshore activities
As with all cruise travel, there are a wide variety of excursions available in almost all ports. Walking tours are always possible in cities, as are bicycle tours or tours by coach. But many ports are chosen specifically for their excursion potential.
Some tiny ports in the Norwegian fjords offer helicopter tours or glacier hiking. In Northern Norway, you can meet Sami people and try your hand at dogsledding. Or how about diving into the fascinating medieval history of Stockholm? In Finland, you could even try the national pastime, sauna!
One thing to be aware of with Scandinavian excursions is the activity level. Scandinavians are an active, outdoors people, so a hike advertised as "easy" or for "beginners" may be a little more strenuous than you expect. If in doubt, ask!
Independent tours
Of course, you don't have to book an excursion with the line. In fact, if you do so, you'll likely be spending more money than you need to. Independent tours are available in every port, such as these northern lights tours in Tromsø.
Cruise lines will tell you they will only wait for late passengers if you are on an official excursion. That's true, but the majority of experienced independent tour operators are well aware of your need to return to the ship in good time.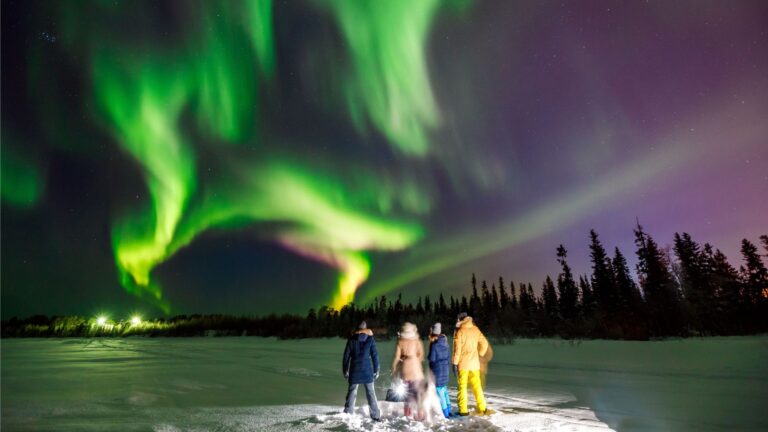 There's also the issue of refunds should the ship be late arriving in port, or need to miss a port entirely due to poor weather, sea conditions or other operational reasons. Even so, I recommend looking at independent tours if you want to save some cash.
Scandinavian cruise reviews
Throughout this article, I've shared some of my own cruise reviews and ship tour videos. But there are so many more out there!
If you prefer videos, my recommendation is to search YouTube first. Here you'll find cruise and travel bloggers who have been to the region before. Some top cruise vloggers include Emma Cruises and Gary from Tips for Travellers.
"Previously I had always thought that to see the Northern Lights you'd have to stand around for hours in the cold on a mountain or take a trip on a small postal boat. I saw a mainstream cruise line that I recognised making the trip. I knew that this was my chance!" – Emma Cruises review on her northern lights cruise.
Packing for a Scandinavian cruise
Before I leave you, I have to mention a little about packing. Scandinavian cruises are not like Mediterranean cruises! You'll have to think carefully about what to pack.
Most importantly, weather in the region is notoriously variable at all times of the year. You should expect rain and cool days in the summer and milder days and possibly bright sunshine in the winter–depending on how far north you go, of course!
Read more: Packing List for a Northern Lights Tour
What you'll need more than anything else is layers. Rather than pack your luggage with warm clothes, pack lots of layers to allow for flexibility. Cruise ships are typically warm inside, so you won't want just big, fluffy jumpers.
Bear in mind what you might need for excursions, too. In particular, walking boots and a quality windproof and waterproof outer layer. Sunglasses and sunblock are must-have items too, no matter the time of year.
And there we have it. Phew! I hope you enjoyed this introduction to the wonderful world of Scandinavian cruising. Have you cruised the region before? Let me know your experiences in the comments below!