Reviews and recommendations are unbiased and products are independently selected. Postmedia may earn an affiliate commission from purchases made through links on this page.
Article content
"Wait five minutes, don't leave before the miracle happens," whispers Uncle George, quoting his late great-grandmother, who he says embodied the essence of old Hawai'i. As he blows the conch, we finally gaze upon the fire and ice spectacle we've paddled for – sunrise over Mona Kea. Within moments, white light pierces the now-quiet snow-capped volcano, creating a stunning scene worthy of our 6 a.m. wake-up call. Soon the sun's warm glow turns the aquamarine water rippling beneath our canoe crystalline, offering our group a mesmerizing vantage into the ocean's depth. We then sit in gratitude, taking in the miracle and listening to Uncle George's story about his ohana (family), ancestors and the eternal spirit of Hawaiian culture.
Article content
The Big Island of Hawai'i is a vast juxtaposition of dark and light, punctuated by dramatic fields of jagged lava, black volcanic sand beaches, verdant rainforests and golden shorelines fringed by lapping waves in every hue of blue. Although tourism is thriving, the island retains the beauty of its past, and each time we visit, I can feel the mana (spiritual energy) of ancient Hawaii. This sentiment rings especially true when travelling outside Hawai'i's vibrant resort areas. The Waipi'o Valley Lookout is one such place. To view the childhood home of King Kamehameha, my family and I journeyed north from Hilo along the Hamakua Heritage Corridor drive. Making a day of it, we stopped to view Akaka Falls, explored historic Honoka'a Town and partook in fresh coconuts from a roadside fruit stand along the way. Arriving at "The Valley of the Kings", we marvelled at the majesty of the lush eight-kilometre-deep valley with its dramatic soaring cliffs, tumbling waterfalls and black sand beach. Puʻuhonua o Hōnaunau National Historical Park in south Kona offers another fascinating glimpse into Hawaiian history. The royal grounds, once a refuge for lawbreakers, feature beautifully restored ancient wooden statues depicting images of gods, a hatched workhouse, fishponds and a sacred temple. From Puʻuhonua, we ventured 70 minutes further, reaching Hawaii's famous black sand beach, Punaluʻu, for sunset. The onyx-coloured shoreline, fringed by swaying palms, is well known for the green sea turtles warming themselves on the sand.
Article content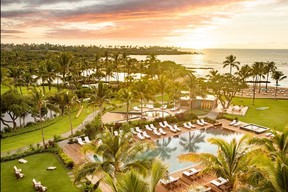 Mauna Lani on the Kohala Coast, where we stayed and canoed with Uncle George, artfully weaves Hawaiian culture into every aspect of the guest experience. The 32-acre, newly reimaged Auberge Resort is a luxury beachfront haven set amidst lava fields and ancient Kalahuipua'a fishponds stocked for the exclusive consumption of Hawaiian royalty. Natural resource manager Ethan Souza, with Mauna Lani's Living Culture Team, was my guide for the complimentary historic walking tour. I was fortunate to be the sole participant and beneficiary of Ethan's extensive knowledge. Wandering just beyond the resort's perfectly manicured gardens, we travelled back in time to explore old Hawai'i. The landscaping, or lack of it, is intentional, for it's the stories – of ancient royalty and Hawaiian gods – that create its true sense of place. We followed Fisherman's Trail, eventually reaching Eva Parker Woods Cottage to chat about local senator Francis H. I'i Brown, whose grandfather served Hawai'i's high chiefs. Brown purchased the secluded cottage in 1936 for a vacation retreat and to entertain close friends and family. It was from his vision and passion for protecting and sharing Hawaiian culture that the Mauna Lani legacy was born.
Article content
The resort's name, meaning Mountains Reaching Heaven, references the surrounding five volcanoes. While the present-day championship golf courses and five-star resort offer unparalleled luxury, the cottage is firmly rooted in Hawaiian heritage. Our visit coincided with Mauna Lani's Twilight at Kalahuipua'a, held at the historic property on the Saturday nearest the full moon. Hosted by living culture leader Danny Akaka, resort guests and locals are welcome for an evening of traditional storytelling, music, and community.
The Holoholo Kids Crew, for children ages five to 12, also incorporates culture into its programming. We booked our 10-year-old daughter Brooklyn in for a morning while my husband and I enjoyed an incredibly soothing massage at the Auberge spa. Truthfully, Brooklyn has outgrown Kids' Clubs, so convincing her to attend took some cajoling. Shockingly – thanks to the fabulous ladies who run it and the many culture-driven crafts – she loved it. So much so that she attended daily for the remainder of our trip and missed joining me on Ethan's historic tour. Brooklyn did, however, partake in his wisdom with the Holoholo Kids Crew at a morning Turtle Talk, where we learned about the resort's conservation efforts and Turtle Independence Day – an annual turtle release community celebration on the fourth of July.
Article content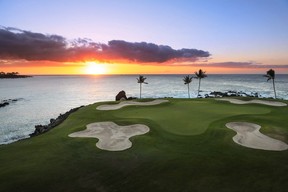 We managed only two other family activities between Kids Crew and swimming in Mauna Lani's heated family pool and protected bay. The first was an easy sell, a canoe snorkel adventure beyond the reef. It was fantastic as the water was warm – even at 8 a.m. – and teemed with tropical fish and turtles. We even saw two small octopuses pointed out by our guides. Our second excursion was a sunset golf tour of the Francis H. I'i Brown South Course, which surpassed all expectations. We drove the links in two carts, with Curt and me in one and Brooklyn and tour guide extraordinaire Wally in the other. Wally was a kid at heart, expertly tailoring the experience to engage Brooklyn with an impromptu putting competition, sunset ukulele session and thrilling stories of the rich and famous who owned homes on the course. However, the highlight was teeing off on the course's iconic Hole No. 15 – one of the world's most photographed over-the-ocean holes.
Article content
Our meals were also magical at Mauna Lani, with the storied CanoeHouse taking centre stage. The oceanfront restaurant's Japanese-inspired menu showcases local, seasonal ingredients. We began with the buttery, salty Shokupan pull-apart bread and Kahuku corn ribs drizzled in soy, shichimi and white truffle oil, then shared the rib eye steak and lobster. Sadly, dessert was beyond our reach after overindulging in appetizers and a hearty main course. HaLani's daily breakfast buffet was our culinary runner-up, with Brooklyn overjoyed with the selection of pastries and waffle bar. I was partial to the acai bowls topped with fresh fruit, coconut and house-made granola, and Curt was like a kid in a candy store with his multi-plate feast piled high with almost every sweet and savoury on offer.
I rang in 2023 in a breathtaking scenic wonderland immersed in Hawaiian culture, embracing the aloha spirit – standing in the presence of the breath of life – a sentiment that will guide me this year and beyond. To quote Uncle George's great-grandmother, I won't rush through life; instead, I'll pause and "wait for the miracle."
Follow Mhairri's family travel adventures at @Arrivals_Travel.