There are 16 ships in Celebrity Cruises' fleet, with the oldest over 20 years old and the newest launching later this year.
Despite all 16 ships belonging to the same cruise line, they vary greatly in size, amenities, and itineraries. The fleet's oldest vessels offer a traditional cruising experience, whereas the newest ships feature record-breaking design and innovative features.
If you're planning a Celebrity cruise, it's helpful to familiarize yourself with the ships in Celebrity's fleet to help pick the best choice for your vacation. Whether you're looking for a small or big ship experience, you're sure to find a ship to fit your travel style best.
Here's our list of Celebrity ships by age from newest to oldest.
Celebrity Ascent (launching in 2023)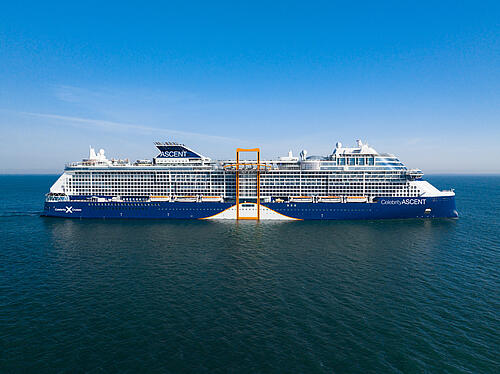 Inaugural sailing: November 2023
Passenger capacity (double occupancy): 3,260
Gross tonnage: 141,420
When Celebrity Ascent launches later this year, she will be the fourth ship in the cruise line's revolutionary Edge Class.
For those cruisers who enjoy sailing on new ships, it will be hard to beat sailing on Celebrity Ascent. As a brand new vessel, guests can enjoy Celebrity's newest dining venues, entertainment concepts, and modern cabin amenities.
Celebrity Ascent will spend winters in the Caribbean and summers sailing the Mediterranean.
Related: Celebrity Cruises released details about its biggest ship yet: Celebrity Ascent
Celebrity Beyond
Inaugural sailing: April 2022
Passenger capacity (double occupancy): 3,260
Gross tonnage: 141,420
Celebrity Beyond is the newest ship in operation by Celebrity Cruises, and like her sister ships in the Edge Class, she is one of the cruise line's most popular vessels.
One of the goals of the Edge Class was to connect passengers more closely with the sea, and Celebrity achieved this through Celebrity Beyond's outward facing design. One of the ways passengers can experience this design is in Eden, an entertainment venue with three stories of ocean views.
Outside of ocean views, Celebrity Beyond features 32 restaurants, bars, and lounges, which include favorites such as the Sunset Bar and Eden Café.
Celebrity Beyond is currently in Europe but she will soon reposition to the Caribbean. She will offer select itineraries to Perfect Day at CocoCay along with visits to the Southern, Eastern, and Western Caribbean.
Celebrity Apex
Inaugural sailing: June 2021
Passenger capacity (double occupancy): 2,910
Gross tonnage: 130,818
The second ship in Celebrity's Edge Class, Celebrity Apex is another modern, elegantly-designed vessel in the fleet.
If you're looking for a modern cabin concept on Edge Class ships, consider booking an infinite veranda cabin. These cabins feature a balcony that is inside your living space rather than through a separate door, which increases living space in the room.
Celebrity Apex splits her time between Europe and the Caribbean, offering cruises to destinations such as the United Kingdom, Egypt, St. Thomas, Puerto Plata, and Cozumel.
Related: 20 Celebrity Cruises Tips & Tricks
Celebrity Flora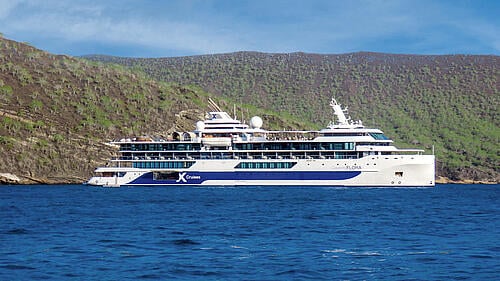 Inaugural sailing: June 2019
Passenger capacity: 100
Gross tonnage: 5,922
Celebrity Flora is the newest of Celebrity's expedition ships, and she offers year round cruises in the Galapagos.
Celebrity Flora is an all-suite vessel, meaning all accommodations are spacious suites, and the rooms are fully automotive, allowing you to control the room's features with the touch of a button.
Booking a cruise on Celebrity Flora is all-inclusive and includes airport transfers, luxury accommodation, fully-escorted tours, all meals and beverages, luggage service, Galapagos National Park entrance fee, and more.
Visiting the Galapagos with Celebrity is an immersive experience different from a traditional cruise vacation. Throughout the cruise, you will visit new islands nearly every day, allowing you to learn more about the region's fascinating flora and fauna.
Celebrity Edge
Inaugural sailing: December 2018
Passenger capacity (double occupancy): 2,918
Gross tonnage: 130,818
Perhaps the most monumental moment in the history of Celebrity Cruises was the launch of Celebrity Edge.
Up until 2018, Celebrity built traditional-style cruise ships, and while they had several inventive features like The Lawn Club and a glassblowing workshop, the design of the ships was lacking in innovation compared to new ships by cruise lines like Royal Caribbean or Norwegian.
Related: I just spent 11 days on Celebrity Edge — did it live up to the hype?
Celebrity Edge changed that with the addition of several impressive new features, the most notable being the Magic Carpet. The Magic Carpet is a cantilevered bar that "floats" up and down the edge of the ship, and it's a must-do experience on Celebrity Edge.
Celebrity Edge sails around the world. She is currently in Europe, but will sail from Australia for several months before offering Alaska cruises in the summer of 2024. Following her season in Alaska, she will return to Australia to offer cruises to the Great Barrier Reef, New Zealand, and the South Pacific.
Celebrity Xploration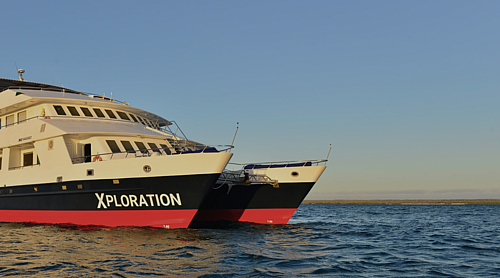 Inaugural sailing: March 2017
Passenger capacity: 16
Gross tonnage: 320
Celebrity Xploration has a capacity of only 16 guests, over three thousand fewer than ships like Celebrity Ascent and Celebrity Beyond.
Built for the Galapagos, Celebrity Xploration is more like a yacht than a cruise ship. As the ship sails from island to island in the Galapagos, passengers can get to know fellow passengers and crew much more intimately than on a large vessel.
In addition, the ship's extremely small capacity means there is little wait for any part of the experience, from embarkation in the Galapagos to getting on and off the ship in port.
Cruising on Celebrity Xploration includes your own stateroom with a window or balcony, room service, complimentary snorkeling equipment, and lectures from Galapagos experts.
Celebrity Reflection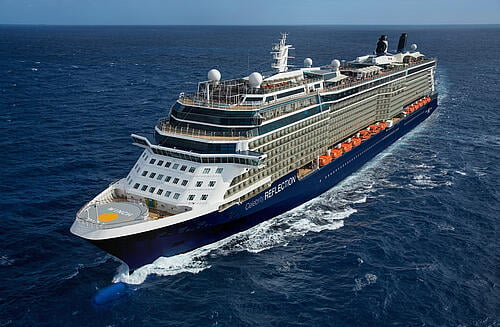 Inaugural sailing: October 2012
Passenger capacity (double occupancy): 3,046
Gross tonnage: 125,366
Celebrity Silhouette is the last ship in Celebrity's Solstice Class. In comparison to Celebrity's oldest class of ships, the Millennium Class, Solstice Class ships are 30% larger.
Due to the larger size, Solstice Class cruise ships offer a wider range of restaurants, lounges, and amenities.
One of the most popular areas on Solstice Class ships is The Lawn Club, a hangout space on a ½ acre lawn of real grass. At The Lawn Club passengers can enjoy live music, play games like bocce and croquet, and dine at The Lawn Club Grill.
Celebrity Reflection is currently in Europe, but after returning to North America she will offer Caribbean cruises year round. Starting in 2024, she will begin offering cruises to Royal Caribbean's private destination of Perfect Day at CocoCay.
Celebrity Silhouette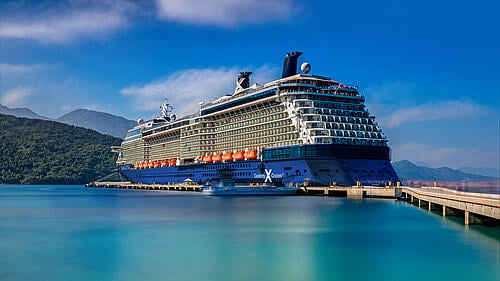 Inaugural sailing: June 2011
Passenger capacity (double occupancy): 2,902
Gross tonnage: 122,210
Celebrity Silhouette offers both short and long itineraries from Florida, allowing passengers to enjoy her amenities whether on a quick 4-night cruise to Mexico or 10-night trip to the Southern Caribbean.
Like her sister ships, Celebrity Silhouette offers a mix between small and large ship cruising, offering a middle ground between a traditional and modern cruise experience.
Celebrity Silhouette spends the summer season in Europe before returning to North America to offer Caribbean cruises throughout the winter.
Related: How does a cheap Celebrity cruise compare to Royal Caribbean?
Celebrity Eclipse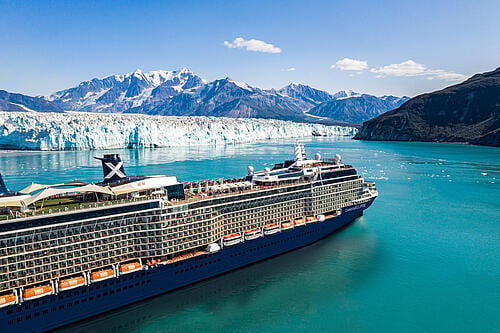 Inaugural sailing: April 2010
Passenger capacity (double occupancy): 2,852
Gross tonnage: 121,878
Celebrity Eclipse is the third Solstice Class ship. Like other Solstice Class ships, Celebrity Eclipse offers a wide variety of sailings around the world.
She currently sails to Alaska, but will reposition to South America in fall 2023 to offer cruises in the region, visiting destinations such as Chile, Antarctica, and Argentina.
Celebrity Equinox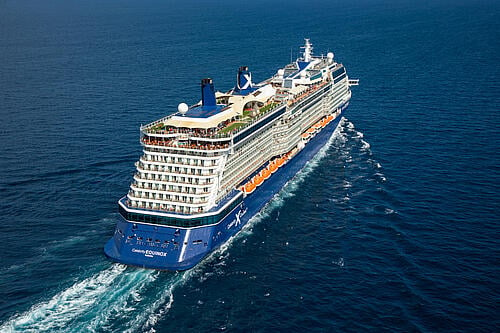 Inaugural sailing: August 2009
Passenger capacity (double occupancy): 2,852
Gross tonnage: 121,878
Celebrity Equinox is the second Solstice Class cruise ship, and she sails around the world, offering some of Celebrity's most unique itineraries.
The size of Solstice Class ships enables them to fit into many interesting ports around the world. Indoor spaces, such as the Persian Garden thermal suite and European-style Café al Bacio, mean you can enjoy the ship's amenities rain or shine.
Celebrity Equinox currently sails to the Eastern, Western, and Southern Caribbean. She will reposition to Europe for the 2024 summer season before heading to South America in December 2024 to offer Patagonia and Antarctica itineraries.
Related: Things you won't find on a Celebrity cruise
Celebrity Solstice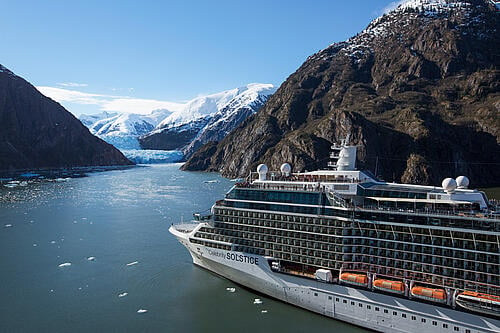 Inaugural sailing: November 2008
Passenger capacity (double occupancy): 2,852
Gross tonnage: 121,878
Celebrity Solstice is the first of Celebrity's Solstice class. Like other Solstice Class ships, guests will enjoy features like The Lawn Club, glassblowing workshop, indoor pool, and the Craft Social Bar. 
Celebrity Solstice spends her time in the Pacific, offering cruises to Alaska, Australia, and Southeast Asia.
Celebrity Constellation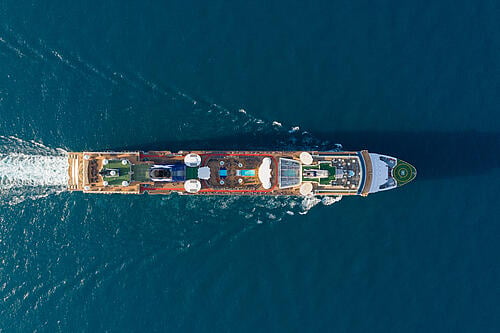 Inaugural sailing: May 2002
Passenger capacity (double occupancy): 2,184
Gross tonnage: 90,940
Celebrity Constellation is the last of the Millennium Class cruise ships, the first class of Celebrity ships. With only a little over 2,000 passengers onboard, the ships offer a quieter, more relaxed atmosphere than those in the Edge or even the Solstice Class.
Classic features of Millennium Class ships include an outdoor rooftop terrace, the Cellar Masters wine bar, and indoor adults-only Solarium.
Celebrity Constellation spends the summer season in Europe and winter season in the Caribbean.
Related: Celebrity Cruises Captain's Club loyalty program info, tips & secrets
Celebrity Summit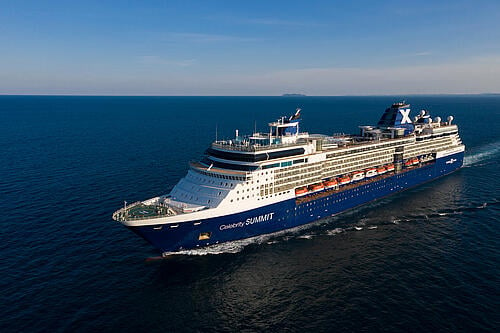 Inaugural sailing: October 2001
Passenger capacity (double occupancy): 2,218
Gross tonnage: 91,003
Celebrity Summit is the third Millennium Class ship, and she was revolutionized in 2019 to add upgraded features and amenities to the 20+ year old vessel.
Although Millennium Class ships do not offer the latest and greatest of Celebrity's activities—you won't find venues like Eden or the Magic Carpet bar onboard—there are still plenty of ways to keep busy on the ship.
Guests will love watching outdoor movies on the ship's rooftop terrace, sipping cocktails at the Martini Bar, and watching the stars from the indoor Sky Observation Lounge.
Celebrity Summit currently sails from the northeast US, offering cruises to Bermuda and Canada. She will sail to the Caribbean in the winter season before repositioning to offer Alaska cruises in summer 2024.
Celebrity Infinity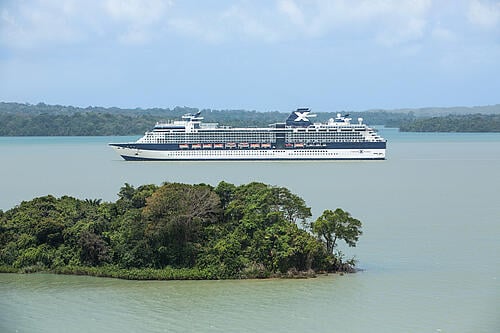 Inaugural sailing: March 2001
Passenger capacity (double occupancy): 2,170
Gross tonnage: 90,940
Celebrity Infinity is one of the smallest cruise ships in Celebrity's fleet, but her small size means that she offers a more intimate and traditional cruising experience.
Onboard you'll find immersive dining concepts like Le Petit Chef, in which a tiny, animated chef is projected onto your table. During the meal the chef "cooks" each course of your meal before the animated meal is replaced with the real life dish.
Related: Celebrity's Le Petit Chef Review — Worth it or Gimmicky?
The ship has three pools: two outdoor pools and one in the indoor Solarium. Additionally, suite guests can enjoy an outdoor sundeck at The Retreat.
Celebrity Infinity stays in Europe year round, offering cruises to the Greek Isles, Turkey, Egypt, the Adriatic, the Mediterranean, and the Canary Islands.
Celebrity Xpedition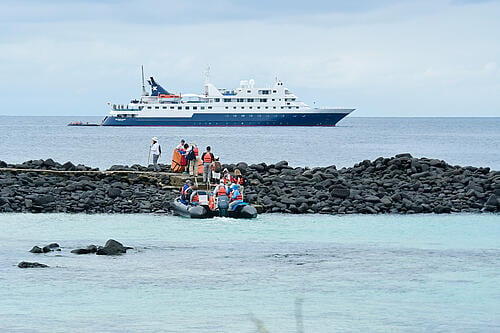 Inaugural sailing: February 2001
Passenger capacity: 48
Gross tonnage: 2,842
Celebrity Xpedition is the oldest ship of Celebrity's expedition vessels, and she offers year round sailings to the Galapagos.
With only 48 passengers at maximum capacity, the Xpedition offers personalized luxury service. While onboard you can enjoy in-suite dining, nightly lectures by certified naturalists, and live music.
Like all cruises to the Galapagos, the focus of the experience is more on the destination rather than the ship. You won't find Broadway-style production shows or an abundance of programming offered onboard, but it will get you up close and personal with the nature and scenery of the Galapagos.
Celebrity Millennium
Inaugural sailing: June 2000
Passenger capacity (double occupancy): 2,218
Gross tonnage: 91,011
Celebrity Millennium is the oldest ship in Celebrity's fleet, but that doesn't mean she is outdated.
Celebrity Millennium was revolutionized in 2019, during which new amenities and staterooms were added to the ship. The Retreat, an all new suites-only area, was added, which includes The Retreat Sundeck and The Retreat Lounge.
In addition, restaurants, the spa, and cabins were reimagined, adding upgraded technology and design concepts to these spaces.
Celebrity Millennium currently offers cruises to Alaska. In fall 2023 she will reposition to Asia, where she will begin offering cruises to Japan, Southeast Asia, and India.