Reviews and recommendations are unbiased and products are independently selected. Postmedia may earn an affiliate commission from purchases made through links on this page.
Article content
It's that magical time between Christmas and New Year's, when holiday lights promise to keep twinkling, and that festive feeling is still in the air. Never mind everything will need to be packed away before you know it – holiday parties are still being planned, and the big blowout is only a few days away.
Article content
We reached out to some famous foodies for thoughts and ideas on how to make a New Year's Eve get-together – be it with a handful of close family and friends or perhaps a more substantial crowd – the best ever and here's what they had to say.
Article content
CHEF ANNE OLSON:
The award-winning celebrity chef and cookbook author admits in her blog that holidays are all about get-togethers and "I don't mind indulging a bit over the holidays – it's the fact that we're sharing with family and friends that really counts." Olson (who, along with her husband, Chef Michael Olson, are planning several culinary trips in the new year, including Mexico and Italy) recommends always having a good dip handy, along with keeping "loads of cucumbers and peppers around."
Article content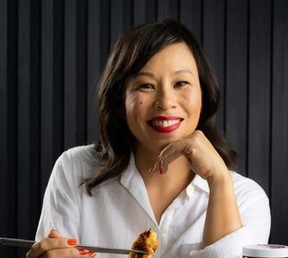 PAY CHEN:
This well-known Canadian TV and radio personality with a particular interest in food says she's always prepared for impromptu or last-minute gatherings this holiday season, even though "I'm someone who is short on space in a small condo." Chen says she loves to buy "all kinds of fancy nuts and spreads in an endless hunt for delicious and locally-made goodies," and "I like to keep a selection of crackers and a variety of cheese and charcuterie on hand," notes Chen, who recently introduced her own personal savoury chili condiment called Sacha-Ish (cookwithzing.com) to the market, adding that prepared condiments are perfect for holiday cooking when one is pressed for time.
RECOMMENDED VIDEO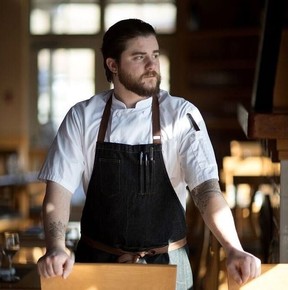 CHEF STEPHEN LUSBY BLACKBURN:
Article content
Chef Blackburn is Chef de Cuisine at the famous Ste. Anne's Spa in Grafton, Ont., and he offered the following tips to host a holiday party, even on a budget:
– Shared plates, appetizers, tapas style would all be good ways to host and cook on a budget. It looks impressive without breaking the budget. Even a themed pot luck is a great way to get everyone together and not have to overspend all on your own.
– Pick a theme (region, cuisine, etc.) and have everyone bring one dish they think represents it. You can even suggest that each person bring a bottle of wine to match their dish and turn the night into a fun holiday themed wine tasting and dinner.
PAGET: The stress of family drama during the holiday season

One of Canada's most expensive spirit a gift for the person who has everything

'Tis the season for festive flavours with dishes guaranteed to become family favourites
Article content
Also from Chef Blackburn:
Hottest trends coming to the holiday table this year?
"I think one of the biggest trends we will see at holiday gatherings this year will be the 'boards' whether they are charcuterie, butter, nutella, peanut butter, cheese, etc."
What should a good host or hostess do to ensure everyone is well-fed, even those with eating issues (such as allergies, health issues)
"Plan ahead, ask questions and be open to cooking and eating outside of your comfort zone. Be open and understanding to people diets and allergies; and have fun trying something you may not have ever had before. "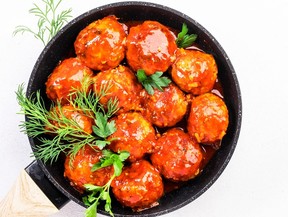 Ste. Anne's Spa Signature Meatballs Recipe
We've adapted this delicious recipe from the famous spa. Serve as a festive finger food. Courtesy steannes.com.
Article content
50 g gluten-free bread crumbs
1/4 cup cream (lactose-free cream suggested)
1 clove of fresh garlic, minced
Handful fresh parsley, minced
1/2 Spanish onion, minced
1 lb. ground beef
1/2 lb. ground pork
1 tsp. organic garlic powder
1 tsp. onion powder
2 tsp. paprika
1 tsp. EACH dried rosemary, oregano and thyme
Salt and pepper to taste
4 cups prepared tomato sauce
1 cup red wine
Mix bread crumbs and cream and set aside. Carefully blend all meatball ingredients (except for tomato sauce and wine) in a bowl. Blend in crumbs and cream mixture. Check your seasoning by cooking off 1 Tbsp and sampling it. Roll meat into meatball size you would like to serve – recipe is enough for 14-15 balls. Bake on a baking sheet at 425°F for 12 minutes to "sear" outside of meatballs.
Article content
Transfer to a deep-sided pan. Blend red wine and tomato and pour over the meatballs. Cover and bake for 45 minutes, or until an internal temperature of 160°F is achieved. Alternatively, you can cook over stovetop and allow meatballs to simmer for about an hour, let rest an hour before serving.
Chef Anna Olson's Lemon Hummus with Pita
There's no need to buy pre-made hummus when it's so easy to make at home, says Chef Anna Olson. annaolson.ca
1 19-oz tin chickpeas, drained and rinsed
1 clove garlic, minced
3 tbsp tahini sesame paste
2 tbsp lemon juice
2 tbsp olive oil
3 tbsp chopped flat leaf parsley, plus extra for garnish
6 small pita, cut into thirds
to taste salt & pepper
cold water as needed
Puree chickpeas with garlic, tahini, lemon juice and olive oil until smooth, adding cold water as needed until desired consistency. Stir in chopped parsley and chill.
Article content
Serving suggestions: Offer as dip with various vegetables, crackers and breads. Or cut open a pita and spoon in shredded chicken. Add a spoonful of hummus and sprinkle with parsley.
Spicy Seared Pork Belly
When pressed for time, reaching for prepared condiments will have you creating a fast feast before guests arrive. In this recipe Pay Chen that utilizes your favourite chili paste for a fiery dish for two –  double for extra guests. paychen.com @paychen.
4 green onions, whites and greens separated
About 450 grams (or 1/2 lb.) of thinly sliced pork belly
Handful of shishito peppers
4 Tbsp. favourite chili paste or condiment
Pinch of salt
Handful of crushed peanuts (optional)
Steamed rice or cooked noodles
Cut white part of green onions into 1-inch slices, and finely slice green parts. Cut sliced pork into bite size pieces.
Article content
In a bowl, mix pork belly, peppers, white parts of the green onion, chili paste and salt. Marinate for 2 hours or even overnight if possible – but if you don't have time to let it marinate, don't worry!
Heat a pan over a high heat, and when it's smoking add marinated pork mix. Stirring occasionally, allow to cook through, about 6-7 minutes. Don't be afraid to let it char in parts, this will make it even more delicious and smoky tasting.
Sprinkle remaining green onions and peanuts on top. You can serve with steamed rice or cooked noodles.
Tips: If you can't find shishito peppers, long hot peppers or poblano peppers are a great substitute. Be creative and use whatever spicy peppers you can find! If you're totally out of options, regular green bell peppers will also work.